Even Small Businesses Need An Accounting Software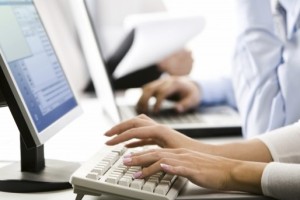 Why Your Business Needs An Accounting Software
Research has shown that over 98 percent of Nigeria's Micro and small scale businesses do not have formal or what we may call a standard book-keeping culture. While most of them are in this state due to ignorance of a good number of them thought it was too expensive to too demanding to maintain a standard business finance account book.
This implies that thinking of using accounting software is far beyond the mindset of the average Nigerian small business owner. However we shall show how important it is for small business owner to ensure the business runs on a formal financial book-keeping and easily too on a software.
Formalized financial statement:
A computerized accounting software program can provide a profit and loss statement and balance sheets that are necessary to evaluate your business progress.  If you are seeking financing for your business, you must present investors with financial statements.
Bank reconciliations made simple:
You don't miss deduction when you reconcile your bank accounts on computerized software. The account won't balance if you don't post the bank charges of the missing receipt for that debit card transaction at the office supply store.
History of the business:
There is nothing more educational and satisfying than bringing down a comparative income statement to compare your current year activity with prior years. A spreadsheet program can give you this, but the data entry is clumsy and more prone to inaccuracies.  Speaking of spreadsheets, you can always dump your data from the software to your spreadsheet program in the event you want to play with the numbers and do projections.
Customer history and aging:
Using a software involving feature allows you to tract your customers purchasing history and payment habit. Aging reports can be generated to facilitate collection efforts. In fact, you can note collection attempts in a special 'Notes" box on the customers profile screen.
Vendor history and aging:
Rather than simply cutting checks when bills are due, you can use the accounts payable system to track bills as they arrive and plan for cash flow. Using software will also provide you with reports for each vendor. It makes it easy to locate prior payments and invoices.
Audit-proof books:
The agent will run a cursory review of the bank statements and if things line up with the software, he or she may take a sampling of expenses to audit, rather going line by line.
Easy Tax preparation:
Preparing your business taxes come tax season will be easier with accounting software. Some accounting software programs are designed to be compatible with other software programs that will prepare and e-file your taxes. This means that you will have to do very little work to prepare the company taxes. If you hire an accountant to prepare your taxes, printing out the reports she will need as easy as a click of the button. Many basic reports such as the company's income, expenses and salaries paid, are pre-programmed into the software prior to your purchase.
Inexpensive cost:
With the number of users on the rise and competition offering comparable software, the cost of accounting software has decreased significantly in the past few years. This means that the investment is truly not a large one and most likely, one your company can afford.
Record keeping at the Click of a button:
Rather than write down every business transaction, accounting software will permit you to download activity with the click of a button. Even if you would prefer typing in activity by hand, doing so is much faster and easier on a computer, especially since the most accounting programs maintain a memory of frequent transaction with only a few keystrokes. The ease of putting transaction information into a computerized ledger will save you time and permit you to focus your efforts elsewhere, such as on obtaining new clients.
Reports:
Accounting software excels at analyzing your business practices and letting you quickly identify how money flows through your operation. When an application manages all your financial transaction. It has extensive data at its disposal to generate various reports. You can quickly see how your revenue uis divided among different operating costs. You can calculate your bottom line more efficiently and track which parts of the country generate the most interest from customers. The reporting options are virtually unlimited depending on the type of software you use and the information you provide it. You will have all the date you need to run your business at your fingertip.