BIG DATA: Transforming How We Think, Work And Do Business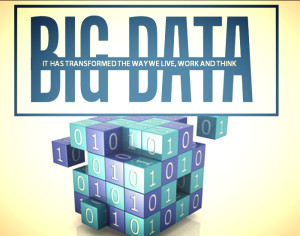 In today's digital age, there is an explosion of data everywhere. Google processes more than 24 petabytes of data per day. Data bytes are being generated every minute, from the mobile call to a loved one at the end of the day buying groceries for the month. How are these data bytes being used?
Some of the leading companies in the world and entrepreneurial startup are making good use of these data. There are being used to arrive at shocking and seemingly innocuous conclusions like "a car pained orange is highly likely to be in good shape for a used car deal" or when airline ticket prices are going to be favorable to the buyer.
Big data is considered to be the next hype cycle. It is claimed to be the biggest development since the internet, promising to turn the world upside down.
Until now businesses has been blinded by a couple of limitations while making decisions: non-availability of data and lack of processing/computational power and development of tools capable of organizing large amounts of data, altogether new insights is available for decision making.
With the insight provided by big data, companies can make many business decisions such as what should be stocked next and health authorizes ca be alerted about possible outbreaks of diseases in a particular geography.
The application and power of the concept is unlimited. Election result in a democratic country can be forecasted. Expenditure patterns of any individual or section of individuals can be predicted. Vehicle traffic on the road can be anticipated and in an agriculture economy, big data can estimate rainfall by manipulating numerous data points.
However, some old concepts will have to be shelved to make effective use of big data. Correlation is just one such concept. Our mind is turned to establish causal effect. The fixation with causality needs to be reduced because in a big data, Why is not important so long as what is established. For example, one would not be able to establish why orange cars are in better shape than others.
These amazing predictions, forecast and insights are based on the analysis of the vast amounts of data. That said, these data were not shared or intended to be used for these purposes. Thus, the concept f the big data gives rises to the issues of data privacy. One's digital life has given to the outside world a window into one's life and the power of big data is correlating the view of a person's life with many other data points, of which one is not even aware, resulting in possible views of one's innermost thoughts, which one may not want to share. The risk needs to be considered and the control environment needs to adapt to it.
Culled from Big Data: Revolution That Will Transform How We Live, Work and Think.